Whether your teak deck is brand new or an existing teak deck you will want to keep it looking and feeling beautiful.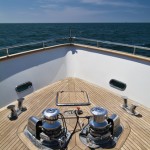 There are many products on the market which purport to be "teak cleaners" these products achieve dramatic results with minimum effort. However to make them so effective they often contain acid or caustic soda which work by removing fibres of the timber. This results in the teak feeling and looking rough. Over time with repeated use of these products enough of the teak and caulking will be removed to compromise the integrity of the materials.
It is therefore very important to be careful about the products you choose to use. Cleaning teak can be as much or as little work as you want. Often a bucket of salty water thrown over the deck on a sunny day is all you need to give the deck a brighten – let the UV do the work for you or give the deck a scrub with warm soapy water. If your deck has more stubborn stains – olive oil and red wine are common culprits – we can supply the biodegradable product developed by  TEAKDECKING SYSTEMS for cleaning teak.
TDS Teak Cleaner Powder has been formulated to be an effective teak  cleaner that does not damage the teak, the caulking, or any of the surrounding painted or gel coated surfaces unlike caustic 2 part cleaners.  ECO100 is a powdered concentrated cleaner that can be either sprinkled directly onto the teak for heavy duty dirt and grime  removal or mixed with water for a more general purpose clean. This product is particularly good at killing the mould and bacteria which may grow on teak in certain conditions.  Use a soft brush and scrub across the grain to avoid tearing the soft grain on the surface of the planks.
DO NOT USE TEAK OILS! They cause the deck to become slippery, attract dirt, they are difficult to clean and they darken the teak making it hot and uncomfortable to walk on. Using teak oil WILL shorten the lifespan of your teak deck.
The TDS Reefing Hook is the ideal tool for use before re-caulking to remove caulk or other sealants from a seam. A razor knife should be used to free the caulk from the sides of the seam. You can remove most of the caulking, leaving minimal material for final hand sanding.
We carry stocks of TDS SIS 440 caulking in black, white and grey.  Available in cartridges or sausages, easy to apply and sand, SIS 440 is ideal to use for re-caulking.
 To order any of the Teakdecking Systems range visit our online shop  www.truenorthteak.com/shop .